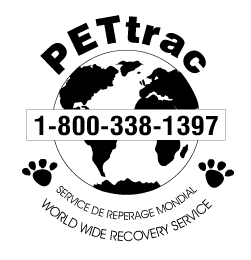 A successful recovery system requires cooperation between the microchip company, the implant facility, the owner and the recovery service. Once the implant facility forwards to us a pet's microchip registration information and the owner provides us their contact information, we now have the ability to efficiently re-unite a lost pet with their owner. And with the owner making sure that their contact information is kept up to date, our PETtrac Microchip Lookup System will always perform effectively.

When a microchip is injected into a companion pet, the microchip number is entered in the patient records at the microchip implant facility and is either recorded on a PETtrac registration form and mailed to us, or electronically submitted through our online systems. Each registered microchip should also have a collar tag that can be affixed to the animal's collar to provide additional visible identification. Each animal is then registered onto our PETtrac microchip lookup database, using the clinic as a tracking site.

If a pet, which has been registered on our database, goes missing and is recovered, the caller will be provided with the owner's information to reunite the pet safely to its rightful owner. If the pet is not registered on our database, the caller will be provided with the proper telephone number for the company in which the pet is registered. Our pet tracking database is available to trace microchips of lost or stolen animals 24 hours a day, 365 days a year with a live operator. In addition, we offer online microchip lookup and online access to approved facilities. No other identification and recovery system offers you these complete services.

The safety and protection of animals is our first concern. Therefore, we will retrieve any information to implement a safe recovery of an animal, whether it be on our PETtrac microchip lookup database or any other recovery service. We will accept the identification numbers from competitor microchips, tattoos, collar tags and rabies tags for registration of a pet in Canada on our PETtrac database.

The Canadian data bank is located in Calgary, Alberta and can be contacted via the 24-hour toll-free recovery service at 1-800-338-1397.

Animals registered in the United States can be identified by phoning AVID USA at 1-800-336-2843. The U.S. office is located in Norco, California.